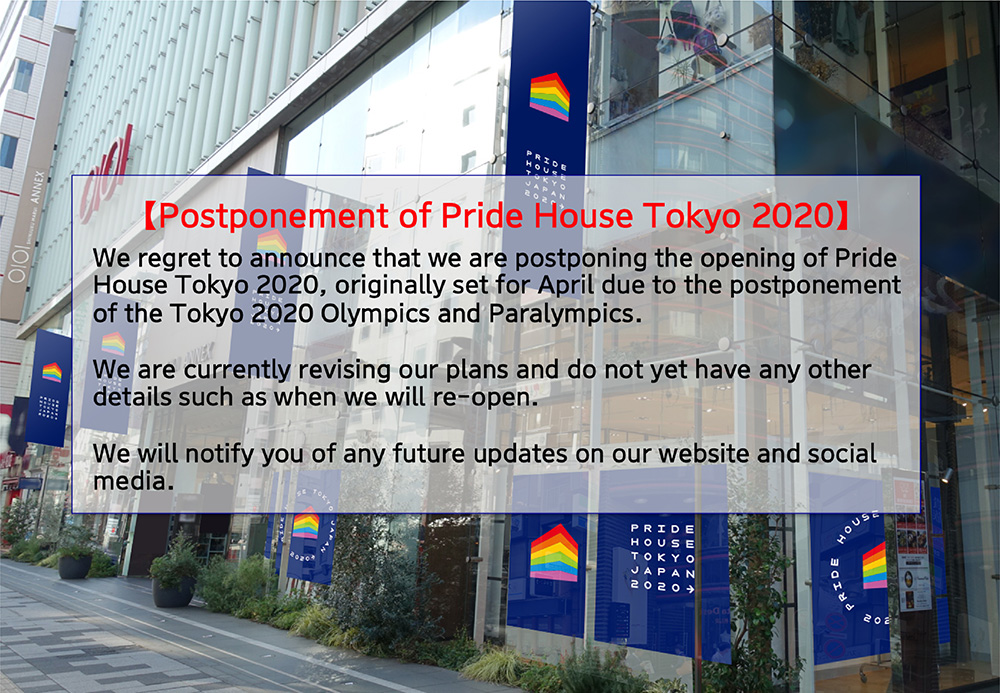 Pride House Tokyo aims to raise awareness of LGBTQ issues through the creation of temporary hospitality spaces, hosting of events, and production of diverse content, while taking advantage of the opportunities available during the Tokyo 2020 Summer Olympics and Paralympics and working across corporate, individual activists and organizational sectors.

Further we hope to leave behind a legacy beyond 2020 in the form of a permanent location where the next generation of LGBTQ youths can gather safely.

However as everyone is well aware, the Tokyo 2020 games have been postponed for another year.
The Pride House Tokyo consortium has similarly decided to also postpone the opening of the Pride House Tokyo 2020, which had originally been set for for five months from mid-April to mid-September on the first floor of the Shinjuku Marui Annex, a commercial complex in Shinjuku 3-Chome.

We sincerely apologize to all of you who have been looking forward to the opening in April or have cooperated with the opening so far.
We are currently working on new plans for the Pride House Tokyo next 2020 year and will update you as soon as we can.

Cooperating across sectors between non-profit organizations, activists, specialists, companies, embassies and municipalities, we aim to maximize our impact in creating a diverse legacy for all in society and which will remain in people's hearts.
Pride House Tokyo 2020 is currently sponsored by 10 corporations, 18 embassies and the EU Delegation. Together with 28 LGBTQ and other NPOs and individuals, we have divided ourselves into seven teams collaborating on seven different projects namely, "Education and diversity awareness", "Culture, History and Archives", "Sexual Health & Consultation", "Athlete messages", "Festivals, Sports events & Volunteers", "Safe Spaces" and "Framework for Sustainability".

A detailed schedule of our new plans will be available at a later date on our website and through social media.
◆「Pride House Tokyo」consortium
(※Japanese alphabetic order , as of February 12)
■Corporations
<Rainbow sponsors>
EY Japan, Cisco Systems G.K. , Dai Nippon Printing Co.,Ltd. ,Nomura Holdings Inc.,Panasonic Corp.
<Diamond Sponsors>
Nippon Life Insurance Company, The Procter&Gamble Company of Japan Limited
<Gold Sponsors>
Asahi Breweries, ASICS Corporation, Daiwa House Industry Co., Ltd., Mizuho Financial Group
■Embassies
Special support from the Embassy of the Netherlands in Japan.
<Nominal support>
Embassy of Iceland, Embassy of Ireland, Embassy of the United States of America, Embassy of Israel, British Embassy Tokyo, Embassy of Australia Tokyo, Delegation of the European Union to Japan, Embassy of Canada, Embassy of Switzerland, Embassy of Sweden, Embassy of Spain, Royal Danish Embassy, Embassy of the Federal Republic of Germany, Embassy of New Zealand, Norwegian Embassy, Embassy of Finland, Embassy of France, Embassy of Mexico
■NPO・Individuals (23 Organizations/5 individuals)
NPO akta (Head: Kohta Iwahashi), S. C. P. Japan (Co-heads:Aya Noguchi), NPO ETIC (Head: Haruo Miyagi), NPO Colorful change lab (Head:Nobuhisa Miura), NPO Good Ageing Yells (Head: Gon Matsunaka), NPO Greenbird (Head: Keisuke Fukuda), Thousand Books PRIDE Series(Head: Kazutaka Koga), NPO GEWEL(Representative Director: Miyoko Kojima), Sports & Life Promotion Foundation(Head: Toshiya Takeda), NPO Tokyo Rainbow Pride (Co-heads: Fumino Sugiyama, Natsumi Yamada), Dokusho Salon(Head: Aoi Yasuda), Nijiiro Kazoku, (Head: Haru Ono), NPO Nijiiro Diversity (Head: Maki Muraki), NPO JaNP+ (Head: Yosuke Takaku), NPO Heartschool (Head: Fumino Sugiyama), Fruits in Suits Tokyo (Head: Loren Fykes), NPO Place Tokyo (Head: Yuzuru Ikushima), Broken Rainbow – Japan (Head: Shoko Usami), Mushimegane no Kai (Head: Shigeyoshi Suzuki), NPO ReBit (Head: Mika Yakushi), NPO Rainbow Community coLLabo (Head: Hiromi Hatogai), NPO Rainbow Soup (Head: Yuri Igarashi), NPO Rainbow Reel (Head: Hideki Miyazaki), University Diversity Alliance (Head: Hiroya Igarashi),Tomoya Asanuma (Transgender activist), Asao Tokolo (Artist), Hiroshi Hasegawa (Magazine editor), Junko Mitsuhashi (Sex & Social Cultural History Researcher/Meiji Uni. adjunct professor), Shinya Yamagata (LGBTQ Activists)