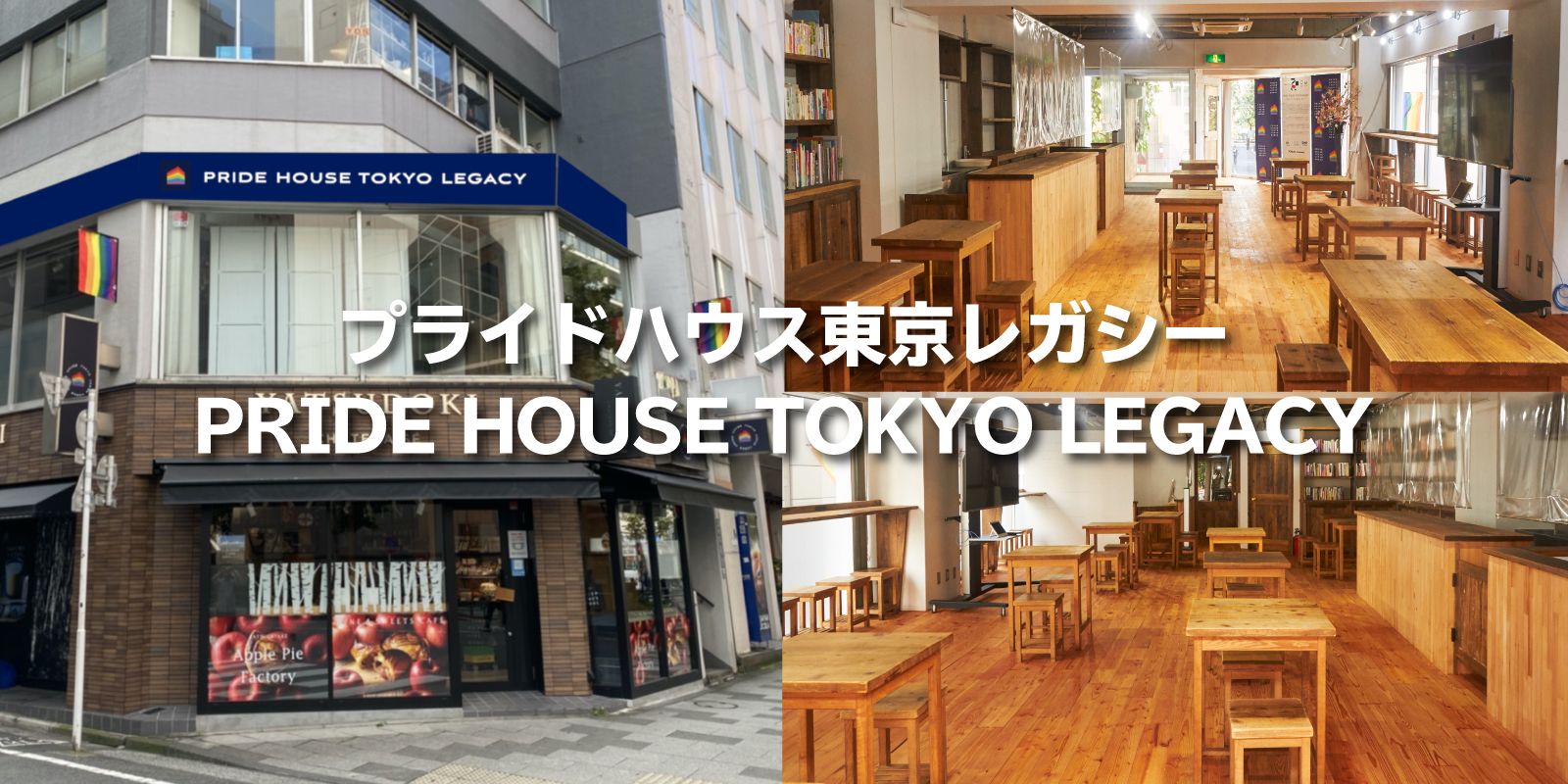 Pride House Tokyo aims to raise awareness of LGBTQ issues through the creation of hospitality spaces, hosting of events, and production of diverse content, while taking advantage of the opportunities available during the Tokyo 2020 Summer Olympics and Paralympics and working across corporate, individual activists and organizational sectors.

The "Pride House Tokyo" consortium is proud to open Japan's first permanent LGBTQ center "Pride House Tokyo Legacy" in Tokyo's Shinjuku ward on October 11 (Sunday) to coincide with International Coming Out Day.

Pride House Tokyo Legacy brings together 35 NPOs and activists, 15 corporations, and 20 embassies in Tokyo, many athletes and sports professionals, to create a safe and secure place to broadcast information on and by the LGBTQ community. The center will be designed as multipurpose space capable of hosting a variety of online and offline events. It will also include space for individual consultations and a library to house Japan's first "LGBTQ Community Archives".

Initially Pride House Tokyo Legacy was due to open from 2021, the year following the Tokyo 2020 Summer Olympic and Paralympic Games. However, we changed our plans based upon the results of our survey "LGBTQ Youth TODAY" which was conducted early on in the coronavirus pandemic and identified the need for a safe way for people to come together regardless of sexual orientation or gender identity. This need is particularly relevant as we look to live with the pandemic in the mid to long term.

"Pride House Tokyo Legacy" operates from our opening on October 11 (Sunday) to December 31 (Thursday) as part of the 'Official Programme' of the Tokyo 2020 Organising Committee, disseminating information on LGBTQ and sports, education and culture in line with the latest coronavirus counter-measure will host a variety of online and offline events.

"Pride House Tokyo Legacy '' will be the first ever Pride House officially recognized by the Olympic and Paralympic Games since the first Pride House was launched in 2010 for the Vancouver Winter Olympics and Paralympics.
When the Tokyo Olympic and Paralympic Games are held in 2021, we are looking to use this new facility to broadcast information during the games, with further details to follow.
■Pride House Tokyo Legacy
| | |
| --- | --- |
| WEB: | https://pridehouse.jp/legacy/ |
| Address: | 2F JF Shinjuku Gyoen Building 1-2-9, Shinjuku, Shinjuku-ku, Tokyo |
| Open Hour: | 13:00~19:00 |
| Open Day: | Monday, Tuesday, Friday, Saturday, Sunday |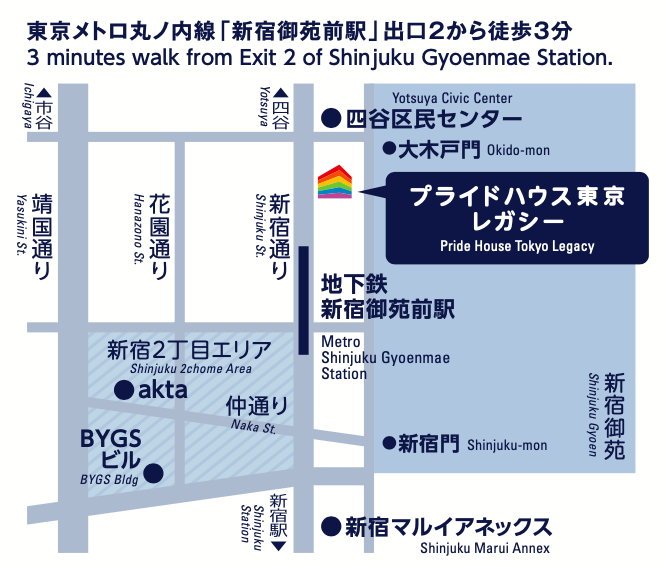 ◆「Pride House Tokyo」consortium
(※Japanese alphabetic order , as of May 29)
■Corporations
<Rainbow sponsors>
EY Japan, Cisco Systems G.K. , Dai Nippon Printing Co.,Ltd. ,Nomura Holdings Inc.,Panasonic Corp.
<Diamond Sponsors>
Nippon Life Insurance Company, P&G Japan
<Gold Sponsors>
Asahi Breweries, ASICS Corporation, NTT,Daiwa House Industry Co., Ltd., Coca-Cola (Japan) Company, Limited, Visa Worldwide Japan Co. Ltd, FUJITSU LIMITED, Mizuho Financial Group
■Embassies
Special support from the Embassy of the Netherlands in Japan.
<Nominal support>
Embassy of Iceland, Embassy of Ireland, Embassy of the United States of America, Embassy of Israel, Embassy of Australia Tokyo, Austrian Embassy Tokyo, Delegation of the European Union to Japan, Embassy of Canada, Embassy of Switzerland, Embassy of Sweden, Embassy of Spain, Royal Danish Embassy, Embassy of the Federal Republic of Germany, Embassy of New Zealand, Norwegian Embassy, Embassy of Finland, Embassy of France, Embassy of Belgium, Embassy of Mexico
■ Support
UNAIDS, Tokyo Metropolitan Government, Shinjuku Ward, Japanese Olympic Committee, Japanese Para-Sports Association Japanese Paralympic Committee, Japan Sport Association, Japan Rugby Football Union, Tokyo Marathon Foundation, Japan Rugby Players Association
■NPO・Individuals
NPO akta (Head: Kohta Iwahashi), S. C. P. Japan (Co-heads:Aya Noguchi), NPO ETIC (Head: Haruo Miyagi), LGBTQ Ally Committee @Accenture (Head: Mamoru Sato),NPO Colorful change lab (Head:Nobuhisa Miura), NPO Good Ageing Yells (Head: Gon Matsunaka), NPO Greenbird (Head: Keisuke Fukuda), Thousand Books PRIDE Series(Head: Kazutaka Koga), NPO GEWEL(Representative Director: Miyoko Kojima), Shuwa Friends (Head: Monkey Takano),Sports & Life Promotion Foundation(Head: Toshiya Takeda), NPO Tokyo Rainbow Pride (Co-heads: Fumino Sugiyama, Natsumi Yamada), Dokusho Salon(Head: Aoi Yasuda), Nijiiro Kazoku, (Head: Haru Ono), NPO Nijiiro Diversity (Head: Maki Muraki), NPO JaNP+ (Head: Yosuke Takaku), NPO Heartschool (Head: Fumino Sugiyama), Proud Futures (Co-heads: Anri Ono, Akane Kousaka),Fruits in Suits Tokyo (Head: Loren Fykes), NPO Place Tokyo (Head: Yuzuru Ikushima), Mushimegane no Kai (Head: Shigeyoshi Suzuki), NPO ReBit (Head: Mika Yakushi), NPO Rainbow Community coLLabo (Head: Hiromi Hatogai), NPO Rainbow Soup (Head: Yuri Igarashi), Rainbow Tokyo Kita Ward (Head: Minori Tokieda),NPO Rainbow Reel (Head: Hideki Miyazaki), University Diversity Alliance (Head: Hiroya Igarashi),Tomoya Asanuma (Transgender activist), Michihiro Inoue,Shuhei Taguchi,Asao Tokolo (Artist), Kohei Nomura, Shinya Yamagata (Editor/Writer)