About
Pride
House
Tokyo
Pride House Tokyo is a project that transcends sector boundaries to link various groups, individuals and corporations in solidarity. Pride House Tokyo will take the opportunity of the 2020 Tokyo Olympics and Paralympics to establish a pop-up information center and spread information related to LGBT people and other sexual minorities, as well as provide various events and programs related to diversity. In addition to working to ensure that LGBT athletes, their friends and families, spectators and local participants are free to be themselves as they enjoy a diversity-themed Olympics, it also aims to create a permanent safe space for the next generation of LGBT youth as an enduring legacy of 2020.

The Pride House Tokyo consortium is working toward fully developing a comprehensive plan for Pride House Tokyo as shown below. Divided into the three phases of the period leading up to the Olympics and Paralympics (TOWARD 2020), the period during the Olympics and Paralympics (UNITED 2020) and the period after hosting the Olympics and Paralympics (BEYOND 2020), this plan links various roles and responsibilities that will utilize the strengths of each group and individual within the Pride House Tokyo consortium.
The period leading up to the Olympics and the Paralympics
(September 2018 – July 2020)

●Inform
Pride House Tokyo will spread information about LGBT people, LGBT people in sports, and LGBT culture, etc., through various interactive initiatives, as well as provide information to sports-related groups and organizations

●Gather
Pride House Tokyo will procure operating funds by collecting donations, and along with creating activities and programs for 2020, it will also develop a pop-up Pride House Tokyo space.

During the Olympics and the Paralympics
(July – September 2020)

●Celebrate
The Pride House Tokyo space will be established in downtown Tokyo. It will offer opportunities for large numbers of people to experience the beauty of diversity. We will share messages from LGBT athletes and allies, and we will create mechanisms to support LGBT people through product purchases.

●Save
Pride House Tokyo will distribute information related to sexual health, provide media guidelines, and provide consultations and a support network for anyone in need.

After the Olympics and the Paralympics
(September 2020 – )

●Create
Pride House Tokyo: Legacy (provisional name) will be established as a permanent LGBT center with the goal of creating a safe space for the next generation of young LGBT people. Pride House Tokyo will support efforts to create similar locations all across Japan based on its accumulated experience, past projects and knowledge.

●Sustain
Pride House Tokyo will not rely on donations, aid and endowments as its sole sources of revenue. Rather, it will create education and information consulting programs as an independent business, and thus establish itself as a sustainable organization. The Pride House Tokyo consortium will consider how to actively make use of government social sector policies such as utilization of dormant deposits and employment of civil servants in dual roles.
The Pride House Tokyo consortium views taking a collective impact approach and participating in local government and corporate projects as crucial to having a broader, more positive impact on Japanese society. In particular, the consortium is actively calling on local governments connected to the Olympics and Paralympics as well as corporations that are official partners of the Olympic and Paralympic Games. In addition to receiving support from corporations, the Pride House Tokyo consortium is also considering new methods for procuring operational funds that involve substantial civic involvement such as charity events and crowd-funding, as well as developing a sustainable framework. In order to increase the number of allies (people who understand and support LGBT issues) in the sports world who can promote greater understanding of LGBT issues with positive messages and actions, the consortium also plans to encourage outreach to sports groups and groups related to the 2020 Tokyo Olympic Games and Paralympic Games, as well as promote the Athlete Ally Ambassador Program which features prominent athletes as advocates for LGBT people and issues.
About Our Logo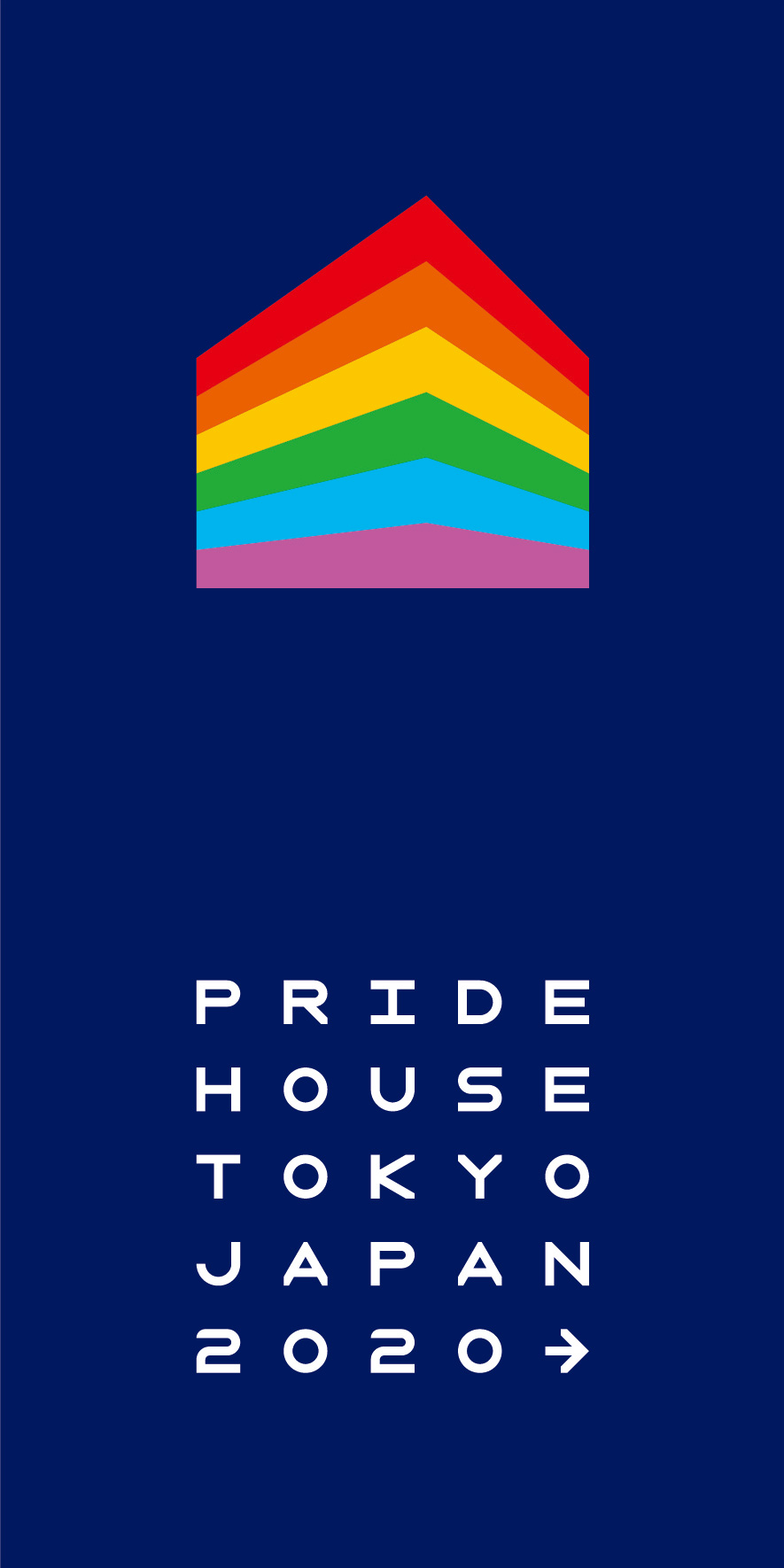 The logo design for the Pride House Tokyo project was created by artist Asao Tokolo, who has created works based on the themes of connection and diversity, and who designed the 2020 Tokyo Olympic and Paralympic emblems. A dynamic house that will be the future for the next generation is depicted by a six-colored rainbow, known around the world as an LGBT symbol. This rainbow is combined with a traditional indigo blue color that symbolizes Japan, entrusting this logo with the hope for a lasting Tokyo legacy.
An original typography was also developed for the project as it continues to expand with an eye toward developing sustainable collaboration into the future between the numerous LGBT groups that are active in diverse fields, D&I groups, sports groups, local governments, corporations and individuals.